HOTEL IN LA SALLE, VALLE DʻAOSTA
WELCOME
The hotel "Les Combes" is settled 1450 above s.l., in a fascinating position, with a view of the Mont
Blanc's mountain chain.
The ancient village of "Les Combes", which was uninhabited and in ruins at the end of 1800, was
completely restructured and transformed, keeping the original characteristics, in a family-run hotel.
GOOD REASONS FOR CHOOSING US:

QC Convention
Immersed in the beauty of the Val d'Aosta, the Hotel Les Combes *** offers a warm and welcoming environment. Ideal for a relaxing holiday in contact with nature in a quiet place
The Hotel offers its guests a total of 12 pleasantly furnished rooms in wood. The central body houses 8 rooms with walnut boat beds, a duvet and a third sheet. In the dependence, another 4 rooms built in 2012. Exposed beams with organic larch partly cover some rooms, offering a warm mountain welcome. There are 9 rooms that have a nice balcony with a view of the surrounding mountains. Only 2 rooms located on the north side of the forest and meadows behind the hotel are without mountain views and balconies, quiet and well furnished.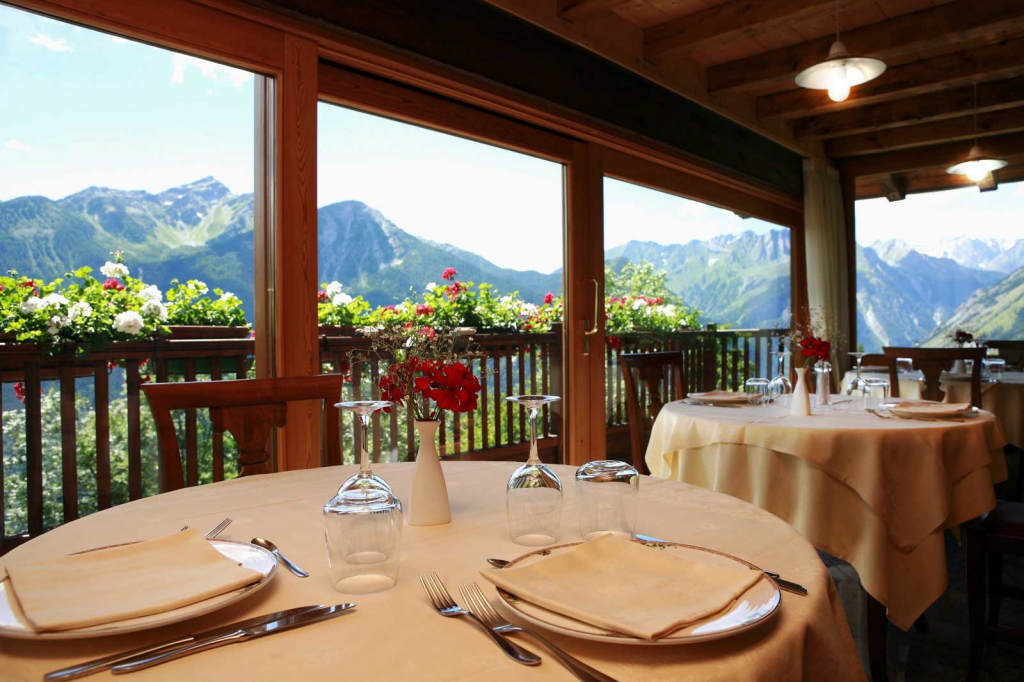 The welcoming 50-seat restaurant is furnished in Valdostano style and offers a wide panorama of the mountains visible from each table with our beautiful glass windows.
In addition to the refined flavors of Italian and Provencal cuisine, typical dishes of Valdostana are served. Our home-made cuisine is based on bread, breadsticks, fresh pasta, desserts and ice cream. Great our sorbet prepared by our Chef Daniele with mountain herbs !!
The cellar is rich in carefully selected wines to accompany the dishes and satisfy even the most refined palates. The dining room serves a delicious lunch and a rich dinner, while in the morning you will be greeted by a rich breakfast buffet. Restaurant recommended by ""La Gola in Viaggio""
We also remind you that smoking is not permitted according to the law no. 3 art 51 of 16 January 2003